1. Ann Kim, Chef and Co-Owner of Young Joni and Pizzeria Lola
You may have heard of Ann Kim in May of 2019 when she won the Oscar of food, the James Beard Awards 2019 for Best Chef: Midwest, as a chef and co-owner of the restaurant Young Joni in Northeast Minneapolis.
Get inspired by her original pizzas with a touch of Italy, Korea, France and more, but also by her other tasty meals inspired by her country of origin, Korea, like Korean Beef Short Ribs and Pork Belly Ssäm (ssäm means "wrapped" in Korean, the pork being the wrapped one here).
Chef Ann Kim immigrated in the United States at age 4. She first began her career as an actress, until 2007 when her husband lost his job and that the precariousness of her acting job was just no longer an option. She and her husband decided to open a restaurant in 2010, the Pizzeria Lola, and another in 2016, the Young Joni.
She regularly post pictures of her last creations, along with content about causes she has at heart and how every woman can do "whatever the fuck [they] set [their] minds to." As you can see, she's never at a loss for words!
Find Ann Kim on Instagram (@annbkool) and Twitter (@annbkool). You can also watch an interview with her here :
2. Pizzaiolo and World Pizza Champion Tara Hattan
Do you know about pizza acrobats? Well, Tara Hattan's one of them. In fact, since 2019, she's part of the World Pizza Champions organization (yeah, that's a thing), composed of elite pizza professionals who cook pizza, but also compete to achieve great things and get tons of awards, with pizza.
Tara started making pizza at age 16 when she graduated high school and never stopped since. She was Andolini's youngest Assistant Kitchen Manager!
In 2019, she won the silver medal for fastest dough at the US pizza in Columbus, Ohio, and the bronze medal for acrobatics at the World Pizza Games in Las Vegas, Nevada.
Here's Tara in action at the World Pizza Games:
(If you wanna know everything, she's using the ProDough to practice… a fake dough!)
Follow Tara Hattan on Instagram (@tarahattan) to see her refreshing daily life in the pizza world along with a pizza trick or two from time to time.
3. Award-Winning Executive Chef & Owner of 13 Restaurants Glenn Cybulski
You probably know Glenn Cybulski: He won over 100 culinary awards for various meals and has owned 13 restaurants in his career. He's also a World Pizza Champion (2009 Member of the Year), and won the Best Pizza in North America Award in 2007.
If there's one thing you need to know, it's that Glenn's inspiration comes from his multiple travels in Italy (he's a fan of Italian cooking).
Today, he's not only an exceptional pizza chef, but also a consultant for restaurant concepts, a seminar speaker and columnist for Pizza Today Magazine and also an instructor at the School of Pizzeria Management. We had the chance to meet him at the know, 'cause we met him!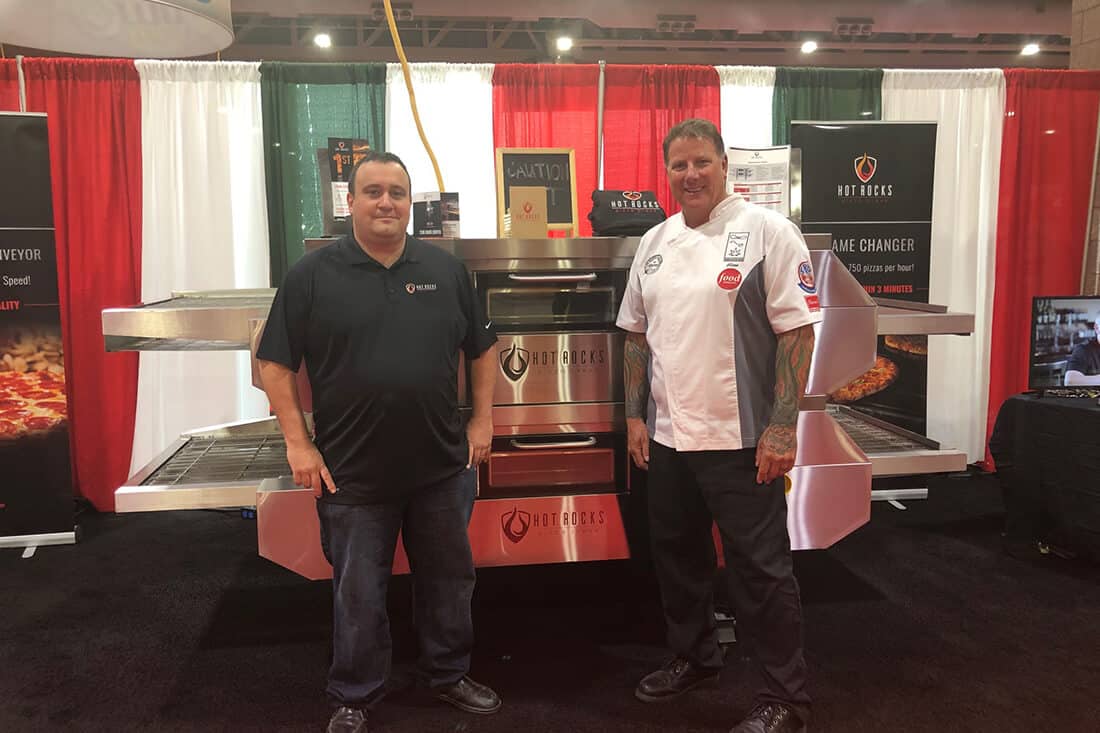 Folow Glenn Cybilski on Instagram (@glenncybulskiofficial) and Twitter (@GlennCybulski) to get meal inspirations and reviews about the last restaurants he went to – among other things.
You can also visit his official website glenncybulski.com.
4. Sarah Minnick, Owner and Head Pizza Maker at Lovely's Fifty-Fifty in Portland
Sarah Minnick entered the pizza industry in 2004 when she opened the restaurant Lovely Hula Hands in Portland, Oregon, after a career in Design. In 2010, the Lovely Hula Hands had to be closed as a she opened a new one called Lovely's Fifty-Fifty with her sister.
She decided to take the kitchen over after his friend left (he was running the kitchen), and learned how to make bread on her own, by reading books and looking on the internet… All with a young son of one year old!
Great news for us (and for Portland), she found out she really liked doing pizza. Her pizza style is everything but standard. She's not afraid to try out new things, like pizzas with flowers. Also, all her products comes from an organic farm (which is spot on with the growing expectations of customers).
You can find Sarah Minnick and her crazy pizza ideas on Instagram (@sarahminnick_) and listen to this in-dept interview in the podcast "Portland Pizza Podcast."
5. Tony Gemignani, Chef and Owner of 14 Restaurants in Northern California & Las Vegas
Tony Gemignani was raised on an apricot and cherry orchard farm in California, so using the freshest fruits and vegetables for his pizzas is just part of his philosophy!
He won around 15 awards such as Top 10 Pizzerias Travel Channel and Top Pizzeria USA Today. He owns 14 restaurants and even a school: Tony Gemignani's International School of Pizza. If you're interested, just know you could take courses such as "Neapolitan and Classic Italian Style Pizza Combo Course" or "American Style Pizza."
You can follow Tony Gemignami on Instagram (@capopizza) where you'll see his pizzas, events, news and more. You can also learn more about him on his official website tonygemignani.com.
Dig Deeper into the Pizza World