BEHOLD THE MIGHTY POWER OF THE GRANITE STONE!
Stone baking has played a significant role in shaping the evolution of pizza ovens. In ancient times, pizza enthusiasts relied on wood-fired ovens made from locally sourced materials, particularly stone. Stone ovens were valued for their exceptional heat retention and even-cooking, making them the ultimate surface for perfect pizzas.
As the pizza craze took hold in the early 20th century, America introduced commercial pizza ovens made from brick or clay, designed to quickly bake artisanal pizzas. Eventually, the demand for larger and more advanced ovens grew exponentially. That's when baking stones stepped in as the mighty savior – however most stone used in today's deck ovens are refractory stones, a composite made of clay, aluminum, iron and magnesium. Their surface is rough, which makes it hard to clean when the pizza sticks to it.
That's why we introduced polished black granite – with its remarkable properties, such as superior heat retention and distribution – it was the evident choice for incorporating it into our pizza ovens. Additionally, the smooth surface of granite made cleaning a breeze, sparing you from the hassle of battling stubborn remnants. And let's say it, it looks pretty darn beautiful.
Granite has become an indispensable component in the quest for the ultimate pizza-making experience. When it comes to cooking up a pizza storm, choosing to rock with granite is the way to go!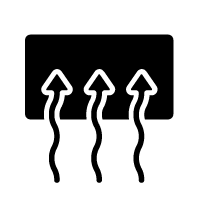 HEAT RETENTION
Granite has excellent heat retention properties, meaning it can absorb and retain heat for long periods. This helps maintain consistent cooking temperatures and removes the need for recovery time, resulting in evenly-baked pizzas.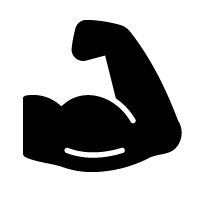 DURABILITY
Granite is a highly durable and resilient stone. It can withstand high temperatures, repeated heating and cooling cycles, and heavy use without cracking or breaking easily.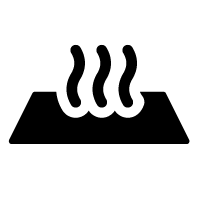 EVEN HEAT DISTRIBUTION
Granite stones have the ability to distribute heat evenly across their surface. This helps ensure that the pizza crust cooks uniformly, eliminating the creation of cold spots in the oven.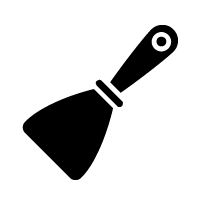 EASY TO CLEAN
One other advantage of using black granite is its easy-to-clean nature. Granite stones are smooth and non-porous, making it simple to remove any residual cheese or toppings after baking.
OUR UNIQUE GRANITE STONE CONVEYOR
Hot Rocks harnesses stone and radiant heat to recreate the traditional pizza oven experience. The stone creates a perfect crust, while the radiant heat flawlessly cooks the delectable toppings. Enjoy unmatched pizza perfection with us!
STACKABLE UP TO THREE OVENS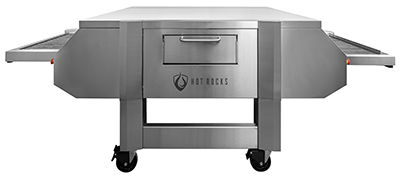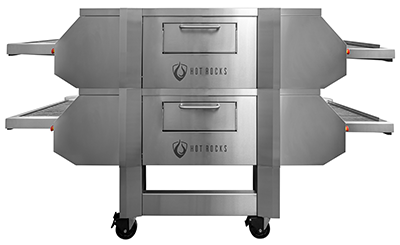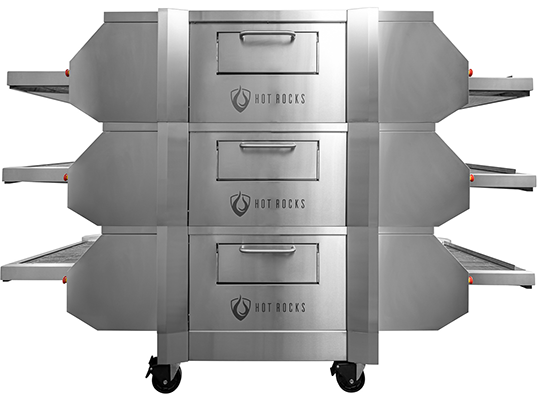 As your business expands like a dough rising to new heights, the Hot Rocks has got your back! With its stackable design, you can effortlessly add up to three ovens, multiplying your pizza output and satisfying the hunger of the masses.  Scaling up has never been so simple with the Hot Rocks by your side!
| BAKING CONVEYOR LENGTH | BAKING CONVEYOR WIDTH | FULL LENGTH | FULL WIDTH |
| --- | --- | --- | --- |
| 70 inch | 22 inch | 123 1/2 inch | 50 1/2 inch |
| BAKING CONVEYOR LENGTH | BAKING CONVEYOR WIDTH | FULL LENGTH | FULL WIDTH |
| --- | --- | --- | --- |
| 70 inch | 33 inch | 123 1/2 inch | 61 1/2 inch |
| BAKING CONVEYOR LENGTH | BAKING CONVEYOR WIDTH | FULL LENGTH | FULL WIDTH |
| --- | --- | --- | --- |
| 93 inch | 33 inch | 146 1/2 inch | 61 1/2 inch |
COOK MORE PIZZAS WITH THE HOT ROCKS
PIZZA SIZE

12 INCH

14 INCH

16 INCH

18 INCH

COOKING TIME
4 min
5.5 min
7 min
4 min
5.5 min
7 min
4 min
5.5 min
7 min
4 min
5.5 min
7 min
HR-70-22
90
65
51
75
54
42
60
43
34
52
38
30
HR-70-33
150
109
85
135
98
77
120
87
68
75
54
42
HR-93-33
215
156
123
186
135
106
164
119
94
110
80
63
PIZZA SIZE

12 INCH

14 INCH

16 INCH

18 INCH

COOKING TIME
4 min
5.5 min
7 min
4 min
5.5 min
7 min
4 min
5.5 min
7 min
4 min
5.5 min
7 min
HR-70-22
180
130
102
150
108
84
120
86
68
104
76
60
HR-70-33
300
218
170
270
196
154
240
174
136
150
108
84
HR-93-33
430
312
246
372
270
212
328
238
188
220
160
126
PIZZA SIZE

12 INCH

14 INCH

16 INCH

18 INCH

COOKING TIME
4 min
5.5 min
7 min
4 min
5.5 min
7 min
4 min
5.5 min
7 min
4 min
5.5 min
7 min
HR-70-22
270
195
153
225
162
126
180
129
102
156
114
90
HR-70-33
450
327
255
405
294
231
360
261
204
225
162
126
HR-93-33
645
468
369
558
405
318
492
357
282
330
240
189