If you're here, it's probably that you wanna let go the ordinary all-dress pizza you eat every week. Or you may lack inspiration for your restaurant – it can happen, too.
In both cases, you've come to the right place: here are 5 pizza styles we stole to 5 countries around the world.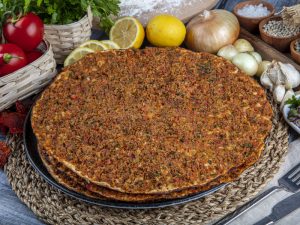 If you're a pizza fan but can live without cheese, this pizza is perfect for you! Lahmacun, pronounced Lahamajoun, is a very thin, crispy pizza topped with a tasty mixture of ground meat, peppers, tomatoes, fresh herbs and spices. We prefer to make our own dough, but you can take a shortcut by using a quality store-bought pizza dough. But the secret is in the spice mix!
In the recipe from The Mediterranean Dish, the spices used are smoked paprika, allspice, cumin, Aleppo pepper, a pinch of cinnamon and a pinch of cayenne. However, if you don't like spice, simply leave out the cayenne.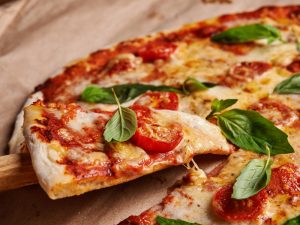 What differentiates the Italian marguerita pizza from others is it's thin crust and the simplicity of the ingredients used. While in America, we love to put lots of toppings, Italians prefer to stay more conservative. You only need 5 ingredients to make the best marguerita pizza: roasted garlic, tomato sauce, mozzarella, fresh tomatoes and fresh basil. And bonus if the basil is from your garden.
Ideally, you must make your own pizza dough! You can use Sally's recipe which contains only 6 ingredients: yeast, flour, water, oil, cornmeal and salt/sugar.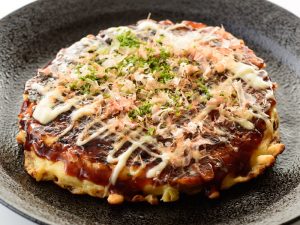 In Japan, okonomiyaki is a dish that resembles pizza in that it's a rather free-form group of toppings on a flat, circular base. Okonomiyaki is made of a disc of shredded cabbage cooked in a pancake-like batter. The texture of this base varies by preference. Some prefer it dry and stiff while others like it to have a soft, almost custard-like center.
Throughout Lebanon and Syria you may not find pizza, per say, but you will find manakish, also known as mangish or manaeesh. Just like pizza in America, manakish is a popular dish and can be found as a street food or in a variety of types of restaurants. The dough is soft and chewy, like pizza in the states. But instead of mozzarella or provolone, you'll find kashkwan or akawi, both common cheeses in that region.
Ideally, for meat toppings, you'll generally find chicken or ground lamb. Then garnish with fresh thyme, onions, cumin, yogurt and olive oil.
We've successfully baked manakish bread on the Hot Rocks. 😊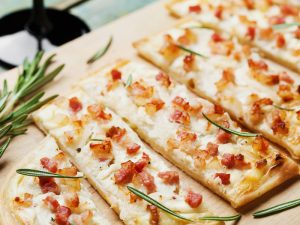 Originating from the Alsace region of France, the tarte flambée or "French pizza" offers a perfect combination of texture and flavour. Fresh cream, onions and the salty touch of bacon are layered on top of the crispy thin crust. The tarte flambée is suitable for many occasions like lunches, brunches, aperitifs and dinners.
A Pizza Oven for All Types of Pizzas
Wondering which oven can cook such a wide variety of pizzas? The Hot Rocks oven gives you that versatility. But when it comes to buying a pizza oven, there are many other criteria to consider. We've put together a guide that can help you find the right oven for your business.
Also, here is an interesting comparison: