Rushes are great when you run on adrenalin, keeping up with orders and getting them all out on time.
They are less great when you have too many orders, having delays that affect your business and forcing you to refuse new orders.
If you offer online ordering, you may even have to turn it down while you get back on top.
What's the Impact of a Third-Party Delivery App on Your Business?
Online ordering is REALLY profitable: customers see you more, order more and pay more for the same pizza. They're also more likely to order appetizers or drinks when ordering online, and it's not going to change as people between 21 and 36 years really like to eat restaurant food – at home.
What's the snag, then?
Online ordering solutions (Youtube) such as third-party delivery apps can become expensive (something you can offset with higher online prices), but also you may not be able to deliver during rushes. The demand is increasing, but you have the same number of employees and the same pizza ovens, although it may change after you read this.
Never Pull the Plug on Online Ordering During Kitchen Rushes Again!
Many of our clients needed to put an end on online ordering during busy nights, as they could no longer meet the demand. It's not a problem anymore with the Hot Rocks oven.
They can now cook up to 250 pizzas per hour, more than they ever did before! See for yourself: We cooked a deep-dish pizza in only 11 minutes!
Go Beyond Surviving Rushes: Increase Your Overall Productivity
Baking a pizza in 3 to 30 minutes simply changed our clients' business, whether they offered online ordering or not.
By switching to the Hot Rocks oven, we've seen our clients decrease their ticket time by up to 50% (and at least 25% depending on the oven they owned before)! That means faster production and more satisfied customers… who will come back more often!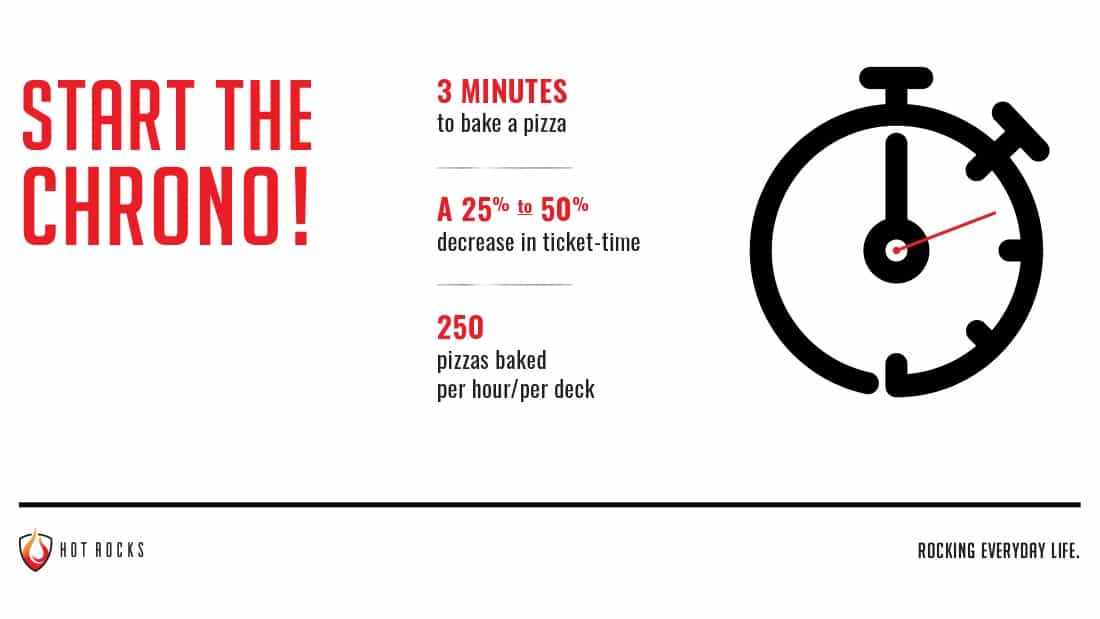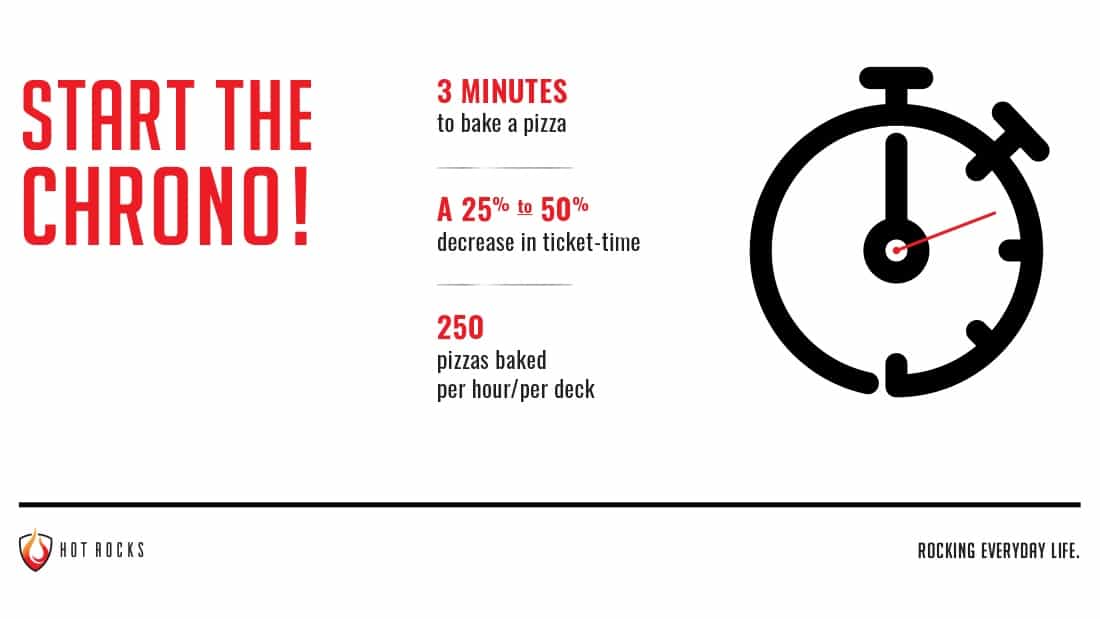 An Overview of How Many Pizzas You Could Cook per Hour
You can use 1, 2 or 3 decks with the Hot Rocks oven, depending on your pizza output need. See how many pizzas you can cook per hour.
Single Deck
Double Deck
Triple Deck
PIZZA SIZE
12 INCH
14 INCH
16 INCH
18 INCH
COOKING TIME
4 min
5.5 min
7 min
4 min
5.5 min
7 min
4 min
5.5 min
7 min
4 min
5.5 min
7 min
HR-70-22
90
65
51
75
54
42
60
43
34
52
38
30
HR-70-33
150
109
85
135
98
77
120
87
68
75
54
42
HR-93-33
165
120
94
150
110
86
135
92
73
82
66
47
PIZZA SIZE
12 INCH
14 INCH
16 INCH
18 INCH
COOKING TIME
4 min
5.5 min
7 min
4 min
5.5 min
7 min
4 min
5.5 min
7 min
4 min
5.5 min
7 min
HR-70-22
180
130
102
150
108
84
120
86
68
104
76
60
HR-70-33
300
218
170
270
196
154
240
174
136
150
108
84
HR-93-33
330
240
188
300
220
172
270
184
146
164
132
94
PIZZA SIZE
12 INCH
14 INCH
16 INCH
18 INCH
COOKING TIME
4 min
5.5 min
7 min
4 min
5.5 min
7 min
4 min
5.5 min
7 min
4 min
5.5 min
7 min
HR-70-22
270
195
153
225
162
126
180
129
102
156
114
90
HR-70-33
450
327
255
405
294
231
360
261
204
225
162
126
HR-93-33
495
360
282
450
330
258
405
276
219
246
198
141