Mark your calendars, the International Pizza Expo, the biggest event of the pizza industry is back in Vegas from March 31st to April 2nd. We'll be at booth 1015. It's exciting for us – for the past 5 years, we've been showing our STONE conveyor oven to all of you passionate pizza men and women.
During these 3 days, the Hot Rocks ovens will be fired up and ready to Rock your socks off. We know there's a lot to eat at the show but save some space for the crispiest crust you'll ever taste from a conveyor oven – a STONE conveyor oven!
Bake with Your Dough
We understand that your dough is key to your success. That's why you're more than welcome to bring your own and take over the ovens! We have all the ingredients but you can also bring your own to make sure you do your pizza justice! There's a risk – Once you've baked it in the Hot Rocks, there's no turning back to your old ovens, you'll be convinced.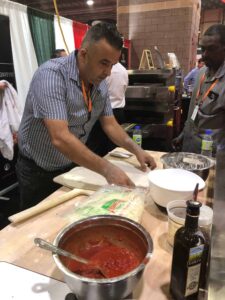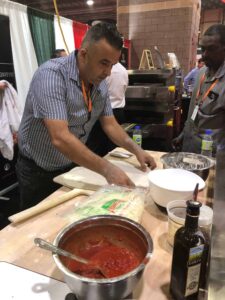 This is your chance to try the oven and see how much of a Game Changer the Hot Rocks really is for your business. We'll bake any style – even a Chicago Deep Dish in 11 minutes to perfection.
Make Sure to Register to Win a Hot Rocks
But WAIT, the best is yet to come! For the 3rd year in a row, we're giving away a $35K Hot Rocks oven to one lucky winner. Some say it's a hoax but it's real – Joe Longo is Rocking his free oven.
You have nothing to loose, register to win, it might be your lucky year!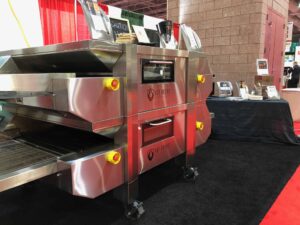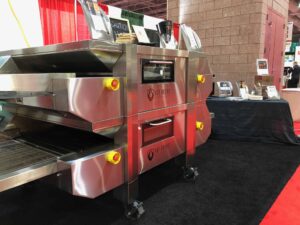 You Can't Come to the Pizza Expo?
If you can't make it to the Pizza Expo booth 1015, you can always come to our very own Test Kitchen or visit one of our Test Kitchen Partners.
There will be other events for us to meet like the Pizza & Pasta Northeast in the Fall. Make sure you check out what restaurant owners like you have to say about our stone conveyor pizza oven with their testimonials.
Want to Know More
You can customize your oven to your exact requirements or simply contact us to know more.