At the heart of every great pizza restaurant is an oven.
This piece of equipment is perhaps the most crucial investment you will make as a restaurant owner. After all, all the detail of the hard work and preparation you put in your pizza is going to culminate in the baking process.
Let's take a look at 5 reasons why financing your equipment may be essential.
We're Here to Make Financing Accessible
1. Convenience
Life moves fast and we know how busy you are, which is why we now offer in-house financing for your equipment purchases. It's much simpler and faster than financing offered by banks that have to evaluate the value of the purchase and your creditworthiness.
2. Minimum Cash Up Front
Cash will always be king! Our financing program requires very little cash up front, so you can use your pizza oven quickly and save your money for other things. There are always unforeseen events and new opportunities that will arise, so financing can be a very attractive option.
3. Accelerate the ROI of Your Business
What? A payback on my purchase… already? Of course, the Hot Rocks commercial oven allows you to be profitable in less than a year considering labour savings and increased sales. In short, you can increase your inventory, reduce labor shortages, serve more clients or add a new revenue stream and increase your sales while enjoying tax benefits at the end of the year. You get faster growth in your business and revenue. Isn't that nice?
4. Inflation Protection
Equipment financing can actually help your company protect itself against the risk of inflation. Indeed, you make a payment of a fixed amount (based on the number of ovens and equipment and the duration of the financing) that will always remain the same. The devaluation of the payments by the inflation during the duration of the loan is thus with our load and not with yours. That it is an advantage, especially with a variable economy as we currently live in.
5. Credit Enhancement
In some cases, commercial equipment financing can go a long way in helping to positively impact your credit score. Of course, this is possible when payments are made at the right time.
Financing Your Oven With Us Is a Profitable Investment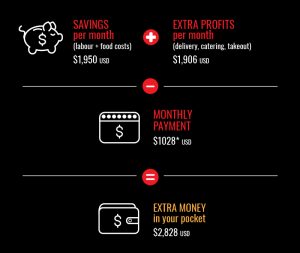 What Do You Get Out of Buying the Hot Rocks?
No more burnt pizzas, you put the pizza in the oven and it comes out perfectly baked on the other side.
With Hot Rocks, you cut the baking time by half because the heat stays inside.
You don't need an employee to operate the oven, so you can save an employee or make him do other tasks such as meal preparation.
More prep means more pizzas and more revenue. More pizzas? Up to 250 pizzas per hour, to be exact!
Don't take a step back, take a step forward!
Let's Talk About It