It's not a secret that the pandemic has caused many pizzerias to do a 360 on their offerings to expand and offer pizza delivery, revise their employee salaries, their products, their pricing, their staffing and much more. Many were not ready and had to adapt quickly to avoid closing their doors.
With the arrival of the COVID-19 variants, the story continues…
Here are 5 of the biggest challenges faced by today's pizzeria owners.
1. Labor shortages and burnt-out employees
Are you one of those restaurants that has to close on Mondays and at 7 p.m. on Saturdays because the employees don't show up? Owner and still working on the pizza line? Employees won't go the extra mile and you can't take it anymore? Burnt-out employees who can't keep up? If the answer to any of these questions is yes, then you should definitely read on.
Rest assured; you are not alone! Most mom & pop and pizza chains you know are facing the same problem. The reality is… there are no employees to do the work! But, we may have the right solution for your business. Let's talk about it!
The Hot Rocks commercial oven was designed to help with the labor shortages. And it REALLY works! It requires no one to operate the oven, it's much easier than a deck oven. You put the pizza on one side and it comes out perfectly baked on the other side. It isn't rocket science!
Also, the oven won't burn employees' forearms. No more open, close, open, close like in a deck oven. The risk of injury is reduced and the high heat blast from opening the oven door is a thing of the past. This will make the position much more attractive for new employees!
It should be mentioned that the Hot Rocks is not a standard conveyor oven, it's a stone conveyor oven. This means that you don't have to settle for anything less than the artisan-style pizza your customers love.
Try the Hot Rocks Oven Yourself
2. Training pizzaiolos
Once hired (a miracle!!!), you must train your new employee. This is also a real challenge these days. You spend hours and hours training them and they can decide at any time to walk away because the job is too hard. Being dependent on these employees is awful! Where are the qualified, skilled and diligent employees?
No skilled labor means that you must find an alternative that requires less training. The Hot Rocks stone conveyor oven is all about making pizza a breeze. Operating the Hot Rocks is effortless and no training is required. It's simple, you put the pizza in the oven and it comes out on the other side, no other handling.
Your rookie employees will be up and running in no time.
3. Pizza delivery and Pizza Kits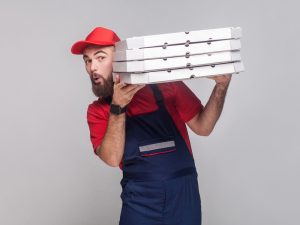 Consumers have only one thing in mind; consuming prepared foods and comfort foods effortlessly. Based on a study from Nutrients, people are eating more comfort food because it helps them relieve the emotional stress of the pandemic. Pizza is the perfect comfort food. In fact, pizzerias that were already offering delivery at the beginning of the pandemic saw their sales explode. For example, according to a 2020 report , Domino's Pizza sales increased by 14% in the first two months of the pandemic to over 20.9% by June.
Delivery has become a necessity for the restaurant industry, especially for pizzerias. You must offer the possibility to pick up the order at the door of the restaurant and also the delivery at the customer's place.
Moreover, when you deliver to the customer's home, ideally it should be delivered by you! It helps enhances the customer experience; it really does! A study by AlixPartners shows that this way people are more likely to recommend you than a third-party delivery application such as DoorDash.
Ok, it's not yet a standard, but many consumers are looking for self-driving pizza delivery since Domino's Pizza is testing the Nuro autonomous car in Houston. The pandemic is making technologies evolve 3 times faster, that's to be expected.
Plus, there has also been an explosion of frozen pizzas and pizza kits. For restaurant owners who had enough space in their restaurant, it was a real success and it continues to be. If you're looking for a vacuum sealer to seal your pizza kits, Sipromac is known for offering durable and easy-to-use vacuum sealers.
4. Labor costs and prices in pizza restaurants
Today, labor cost is getting higher and higher. To attract employees, you have to increase your salaries, if not, you lose them. You have no other choice. A lot of countries have adopted a higher minimum wage to support this movement. A study by AlixPartners found that 58% of respondents were in favor of this increase, but 16% were not willing to pay more in restaurants.
This is a sad reality and a constant issue for pizzerias owners. In an increasingly competitive market, price wars are inevitable, as you risk losing many customers. So, what should you do?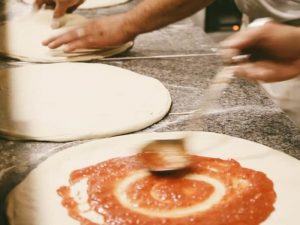 You must equip yourself with a pizza oven that allows you to save an employee in your kitchen without compromising on quality. This way you'll cut on labor cost while increasing your production up to 250 pizzas per hour, to be exact. This is your best solution.
Check Out the Stone Conveyor Pizza Oven
5. Building the customer experience in online ordering
If you want your consumers to order from your restaurant again and again, the customer experience you offer them must be the best.
Let's talk about the best practices for online ordering.
It may sound silly, but you must have a website and it must be simple and easy to navigate. Also, you absolutely must have a software that allows you to synchronize in real time the quantities and products offered. Nothing is more boring than ordering something and realizing at the end that the item is no longer available. It's like…Gotcha! No, we don't want that.
Ideally, you can use applications for your online orders that have these automations. There are a lot on the market.
Also, there must be consistency between the brand image projected by your online platform and your company. If it's done right, consumers will recognize you easily, trust you more quickly and be more likely to order.
Quick reminder, as we said earlier, if you delivered pizza at the customer's place, it should be by you to increase the customer experience.
One last thing, a direct phone number to reach someone is necessary. If your customer has any questions, you must be available. If you are, they'll be satisfied and it greatly increases the chances that they'll recommend you. Word of mouth is powerful!
Let's wrap it up with one last thing.
The pandemic is quite a challenge for pizzeria owners… Novelty, reaction, difficulty, reorientation, compromise…Hats off to everyone!